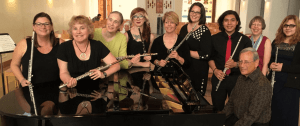 "Porta patet, cor magis" –
This is a well-known salutation with which pilgrims and guests were welcomed at monasteries in the past. We can't think of any better reason to make music!
The door stands open – more so the heart.
---
Don't miss another concert!
Join our mailing list by sending email to
info@nmpas.org
---
Highlights of the 2018-2019 season include "Opera on the Rocks" at Bandelier National Monument, the Winter Solstice Concerts, an early January 2019 choral program for women's voices, the New Mexico Bach Society Concerts, Santa Fe Flute Immersion, and an exciting multi-disciplinary presentation about the intersection of astrophysics, music and art. This season NMPAS collaborates with the Santa Fe Women's Ensemble, The Santa Fe Institute, and True Kids 1 (http://truekids1.org/), whose tagline is: new mexico youth making media.
<<
Mar 2018
>>
Mon
Tue
Wed
Thu
Fri
Sat
Sun
26
27
28
1
2
3
4
5
6
7
8
9
10
11
12
13
14
15
16
17
18
19
20
21
22
23
24
25
26
27
28
29
30
31
1