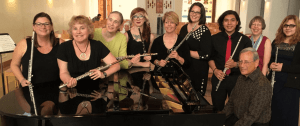 "Porta patet, cor magis" –
This is a well-known salutation with which pilgrims and guests were welcomed at monasteries in the past. We can't think of any better reason to make music!
The door stands open – more so the heart.
---
Don't miss another concert!
Join our mailing list by sending email to
info@nmpas.org
---
The season will again feature the NMPAS Annual Winter Solstice Concert, a mid-January 2018 program to cheer people after the big holiday season, the Annual New Mexico Bach Society Concert, Santa Fe Flute Immersion, and the Season Finale Opera Concert. We plan to especially feature opera and the music of Bach and contemporaries, because you have told us that you love these programs. NMPAS also looks forward to new and ongoing collaborations with other arts presenters and non-profits in 2017-2018.